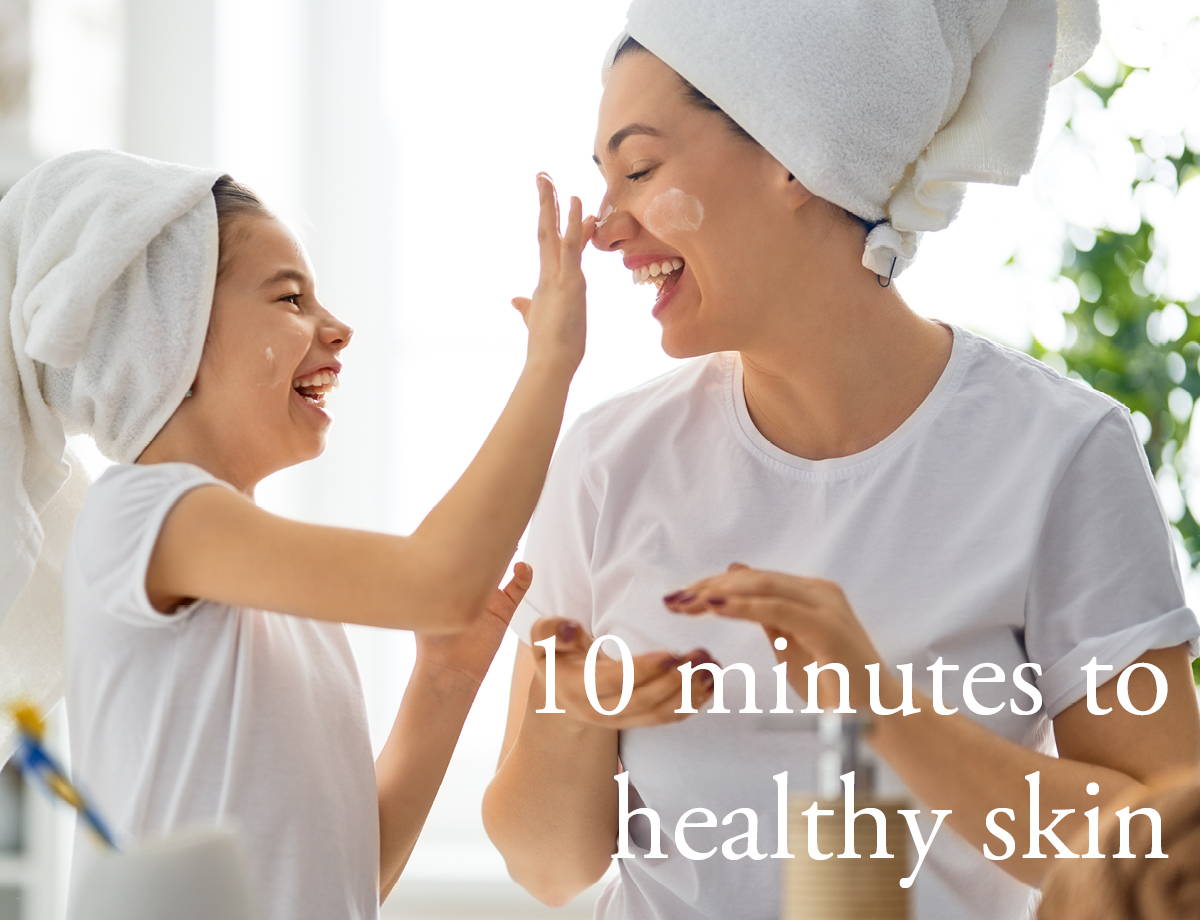 ---
Skinprint Analyst, Devon, shares her secrets for a quick, mom-friendly routine for healthy skin.
Like almost everyone else I know, it seems like this year has been a jolt to the system in so many ways. Overnight, I went from being a working mom with one child in school and one child in day care, to working from home while facilitating virtual learning AND wrangling a toddler. Imagine you had a 9am work zoom meeting, your 5 year old had a 9:30am Google Meets AND your 2 year old thought that it was a game to see how many times she could close your laptop- instantly disconnecting everyone. Fun, right?
---
I Needed a Simple Skin Care Routine that I Could Actually Stick To.
I decided to set some of my precious time aside for myself. If it was going to work, it needed to be a simple skin care routine that I could actually stick to! I committed to the perfect regimen for busy moms. It would be my daily 5 minutes of zen where I could focus on taking care of myself.
To make the most of those 5 minutes, I chose multi-corrective products to address as many of my concerns as possible. I wanted to see visual improvements, but I also wanted to make sure that I was working to improve my overall skin health. I always look for products that work to strengthening my skin barrier, my microbiome and maintaining a healthy natural pH to help prevent further aging.
---
1.
1-step deep cleanse & exfoliation.
This has always been a staple for me. Even when I slack on my treatment serums, eye crème or moisturizer, I cannot live without my Skinprint Clarifying Cleanser! It helps control my oil and breakouts without over drying my skin. The willow bark extract and glycolic acid to help minimize pore size and exfoliate dead, dull skin and it also contains Farnesol which helps to control acne causing bacteria.
---
3.
All-in-one anti-aging.
In my effort to save time, this has been a God send! It addresses ALL of my aging concerns- with just one product. Fine lines? Covered! Age spots? Lightened! Dull skin? No problem! It comes in two levels, level one for sensitive skin and level 02 for advanced skin. I felt like I really needed a power punch so I started with the level 02.
It took a few days for my skin to adjust. I started off slowly- just once a day, at night. But by the end of the first week I was up to twice a day. I started seeing results almost immediately. I started waking up looking refreshed instead of exhausted.
---
3.
Easy, impactful luxuries.
The bags! The puffiness! The lines! Ugh. My eyes are where I felt like I was showing my age the most. I always had some dark circles (thanks for that gene, grandma!), but I just constantly looked exhausted. The EYEdeal Eye Repair Crème gave my skin the hydration that it was craving while helping to reduce puffiness and lines. I already see an improvement in that stubborn darkness that has always been an issue for me.
---
4.
Sealing in all the goodness.
Since I have oily skin, I've always struggled with finding a moisturizer that didn't leave me feeling greasy and shiny. The Reclaim™ Lotion has been great- even during the hot & humid months of summer.
I love how soft it makes my skin feel and I feel good knowing the rich concentration of barrier-boosting ceramides and antioxidants it contains.
---
5.
Finishing touches.
Being quarantined with kids- I was spending a ton of time outside gardening, biking, hiking and swimming! if I didn't wear my sunscreen, the sun spots would appear almost instantly. I bought a huge, floppy sun hat and I applied my Solar Veil™ Sunscreen religiously. I am happy to say that I survived the summer and don't have any age spots to show for it! Also- its super light weight and didn't leave me feeling greasy or looking like a ghost. It's my new everyday staple!
---
Done in under 10 minutes!
I was able to apply everything and get out of the bathroom just in time to wrestle the Cheetos away from the kids and wipe off the orange residue before the pre-k zoom. In just a few weeks my skin not only looked better, it felt better too! It was softer, smoother, brighter.
No matter how crazy life gets, make sure you're taking time for yourself. Even 5 minutes can make a world of difference. When you feel better about yourself, everyone in your family will benefit!
---